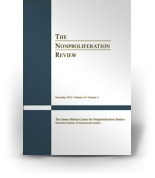 The Nonproliferation Review is a refereed journal concerned with the causes, consequences, and control of the spread of nuclear, chemical, and biological weapons. The Review features case studies, theoretical analyses, historical studies, reports, viewpoints, and book reviews on such issues as state-run weapons programs, treaties and export controls, safeguards, verification and compliance, disarmament, terrorism, and the economic and environmental effects of weapons proliferation.
Authors come from many regions and disciplines. With subscribers in 50 countries, the Review is an essential resource for policy makers and scholars worldwide.
All accepted submissions published in the Nonproliferation Review will be automatically entered to win the Doreen and Jim McElvany Nonproliferation Prize of $5,000. See our Call for Submissions for more information.
To submit your manuscript, follow the submission guidelines and submit your article through our online Editorial Manager system.
The Journal
Read the Nonproliferation Review at Taylor & Francis Online.
---
Recent Online Features
Winners of the 2009 Doreen and Jim McElvany Challenge Competition

Keynote Speaker Jon B. Wolfsthal Special Adviser to the Vice President for Nonproliferation and Nuclear Security and Director for Nonproliferation, National Security Council Please note that Mr. Wolfsthal's remarks were off-the-record and cannot be quoted or published. Anne Harrington de Santana University of Chicago "Nuclear Weapons as the Currency of Power: Deconstructing the Fetishism of Force" There are important similarities between the ...

Winners of the 2008 Doreen and Jim McElvany Challenge Competition

Keynote Speaker Representative Ellen Tauscher (D-CA) Chair, Strategic Forces Subcommittee, House Armed Services Committee Ward Wilson (Grand Prize) "The Myth of Nuclear Deterrence" Nuclear deterrence is sometimes treated as a known quantity—a definite thing that keeps us safe and ensures our security. It has also often been used as a justification for possessing nuclear weapons. Nuclear deterrence, however, is based ...

Space Weapons: Then and Now

Commentary based on the article Theresa Hitchens of the Center for Defense Information and Michael Katz-Hyman of The Henry L. Stimson Center.
---
Browse Past Issues
This section of the page is no longer being updated. Find articles from the Nonproliferation Review at Taylor & Francis Online.
By Issue
By Type
Book Reviews
Correspondence
Interviews
Special Issues and Sections
Viewpoints
By Subject
Arms Control
Biological Weapons and BWC
Chemical Weapons and CWC
Cold War
Comprehensive Nuclear-Test-Ban Treaty (CTBT)
Conventional Weapons
Cooperative Threat Reduction
Cyberwarfare
Deterrence
Disarmament
Energy
Export Controls and Trafficking
Fissile Material and Fuel
History and Theory
IAEA and the United Nations
International Law
Missiles, Missile Defense, and Missile Technology Control Regime (MTCR)
NATO
Non-Nuclear Weapon States
Nonproliferation Policy
Nuclear Power
Nuclear Security
Nuclear Testing
Nuclear Weapons
Proliferation
Safeguards
Space and Space Weapons
Terrorism
Transparency
Treaty on the Non-Proliferation of Nuclear Weapons (NPT)
Verification and Compliance
Weapon-Free Zones (formerly Nuclear-Weapon-Free Zones)
By Region/Country
Africa
Argentina
Asia
Australasia
Brazil
China
Egypt
Europe
Former Soviet Union/Newly Independent States
France
Germany
India
Iran
Iraq
Israel
Japan
Jordan
Latin and South America
Libya
Middle East
Naval Nuclear Programs
North Korea
Pakistan
Russia
South Asia
South Korea
Switzerland
Syria
United Kingdom
United States
Vietnam
---
Statements of fact and opinion expressed in The Nonproliferation Review are the responsibility of the authors alone and do not imply the endorsement of the editors, the James Martin Center for Nonproliferation Studies, or the Middlebury Institute of International Studies at Monterey.