September 27, 2012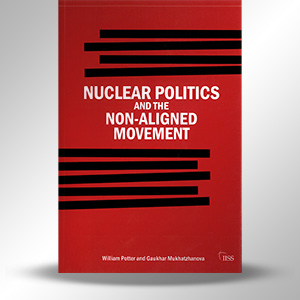 The Book Launch
On September 25, 2012, VCDNP hosted the launch of the European release of Nuclear Politics and the Non-Aligned Movement, a book co-authored by William Potter, CNS Founding Director, and Gaukhar Mukhatzhanova, CNS Senior Research Associate. The book was published by the International Institute of Strategic Studies (IISS) as part of its Adelphi series.
Speakers at the Launch
The authors of the book discussed their key findings at the event. Ambassador Nabil Fahmy, Dean of the School of Public Affairs at the American University in Cairo and Chair of the CNS Middle East Nonproliferation Project, and Ambassador Aliyar Lebbe Abdul Azeez, Sri Lanka's Permanent Representative to UNIDO, IAEA and CTBTO, served as commentators. The event was moderated by Mark Fitzpatrick, Director of the Non-Proliferation and Disarmament Program at the IISS.
The panelists discussed the internal dynamic of Non-Aligned Movement (NAM) with regard to nuclear nonproliferation and disarmament issues as well as the possibility of enhancing cooperation between NAM members and the West on these issues. They also touched upon developments in the NAM that have taken place since book's completion and elaborated on the ways the group could contribute to the upcoming 2015 NPT Review Conference.