March 11, 2022 • Updated March 15, 2022
Joshua Pollack, Nonproliferation Review
Articles analyzing Russia's long history of fabrications about biological weapons and Russia's own BW history
On March 6, Russia's Foreign Ministry claimed to be in possession of "evidence of an emergency-clean up" of an American-funded "military-biological programme" in Ukraine. This claim was then echoed by Chinese diplomats. It was also swiftly denounced as disinformation by U.S. officials.
Russia's government, following the example of the Soviet Union, has a long history of fabrications about biological weapons.
Describes how Moscow and its media proxies resumed the dissemination of disinformation about biological weapons in 1995. Public-health laboratories in neighboring states that were once connected to the illicit Soviet biological-weapons program have been a special target for Russian disinformation. Several of these facilities have received support from the U.S. Nunn-Lugar Cooperative Threat Reduction (CTR) program. Since 2020, Russian officials and media proxies have also accused the United States of being responsible for the creation of the COVID-19 virus.
---
Does Russia have an offensive biological weapons program?
Russia, Ukraine, and the United States are parties to the 1972 Biological and Toxin Weapons Convention (BWC), which prohibits the development, production, stockpiling, or other acquisition or retention of biological and toxin weapons and their delivery systems. The U.S. Department of State has long maintained that Russia "maintains an offensive BW program" in defiance of these treaty commitments.
by Gigi Kwik Gronvall and Brittany Bland

Examines the current state of the life sciences in the Russian Federation. Dual-use capabilities—the ability of technologies to play either permissible civilian roles or prohibited military roles—have raised biosecurity concerns around the world. Experts such as the late Raymond A. Zilinskas and Philippe Mauger (the authors of Biosecurity in Putin's Russia) specifically have raised concerns about possible misuse of modern biotechnology research in Russia. Building on this work, Gronvall and Bland examine "capabilities, investment, and published life-science research from the civilian sector in the Russian Federation." They find that despite the government's efforts at revitalizing this sector, Russia "is not a top-tier nation for life sciences research."
---
Both of these articles appear in a special issue of the Nonproliferation Review on chemical and biological warfare in honor of Raymond A. Zilinskas.
For additional background, see also:
---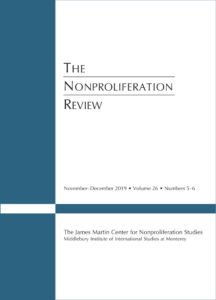 About our journal
The Nonproliferation Review is a refereed journal concerned with the causes, consequences, and control of the spread of nuclear, radiological, chemical, and biological weapons. The Review features theoretical analyses, historical studies, viewpoints, and book reviews on such issues as state-run weapons programs, treaties and export controls, safeguards, verification and compliance, disarmament, terrorism, and the economic and environmental effects of weapons proliferation.
The Nonproliferation Review is produced at the Washington, DC offices of the James Martin Center for Nonproliferation Studies, Middlebury Institute of International Studies at Monterey. The journal is published by Taylor & Francis.