April 20, 2022
Sanaa Alvira
In March, Russia escalated its accusations of several years that the United States and Ukraine are working together to develop biological weapons. Washington swiftly denounced these claims as "laughable" and countered that Russia was trying to "divert attention" from its own violations of the Biological and Toxin Weapons Convention (BWC). Russia's allegations stem from the long-standing cooperation between Kyiv and Washington that helped convert Soviet-era biological weapons laboratories into public-health facilities.
A firehose of falsehoods
New research by Milton Leitenberg recently published in the Nonproliferation Review traces the history of Moscow's almost continuous campaign of false allegations of American biological-weapons (BW) development and use. The Soviet campaign of false allegations of BW use began in 1949 and was maintained through 1988, sometimes supported by Cuba, East Germany, China, or North Korea. After a pause between 1988 and 1995, Russian BW propaganda resumed. Russian disinformation is often aimed at the US government's Cooperative Threat Reduction (CTR) program, which has secured and dismantled weapons of mass destruction (WMD) in the former Soviet states. Among other initiatives, CTR has assisted in the transformation of Soviet BW facilities into civilian facilities for research on public health. Leitenberg notes that one the reasons the Russian government carries out BW disinformation campaigns is "to end US support for and US research presence in all the CTR facilities" in the states neighboring Russia.
More recently, the outbreak of the COVID-19 pandemic has been the focus of a major expansion of Russia's BW-related disinformation. Its claims have been echoed in other countries like China, India, and Iran. All of these assertions have dangerous implications, since they suggest that BW are in fact desirable and useful for their possessors. Russia's assertions about other countries raise concerns about Moscow's own commitment to the integrity of the BWC. Its stream of false allegations might even serve as a form of cover for its own offensive BW program, by making any accusations against Russia seem equally ill-founded.
How advanced are the life sciences in Russia?
In more new research published in the pages of the Nonproliferation Review, Gigi Kwik Gronvall and Brittany Bland explore the current state of life sciences in the Russian Federation, building on the work of the late Raymond A. Zilinskas. The authors note that advances in biotechnology present opportunities for public health, but also raise concerns about possible BW-related research. Despite Russia's stated interest in the biotechnology sector, its current state is inferior to that of the United States and many other countries such as China, France, South Korea, Japan, Germany, and India by a variety of metrics. Excessive bureaucracy, a lack of funding, and a 'brain drain' of top scientists after the collapse of the Soviet Union have hindered Russia's progress in the field. How Russia's underinvestment in their legitimate bioscience sector translates to their investments in biological classified research, including biological weapons, is unknown. Productive engagement on civilian biotechnology could have benefits for cooperation, but the ongoing Russian war in Ukraine makes the prospect unlikely for the foreseeable future.
Read these NPR articles
About our journal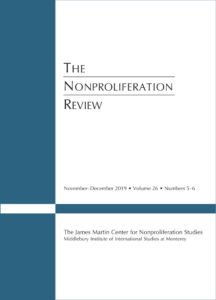 The Nonproliferation Review is a refereed journal concerned with the causes, consequences, and control of the spread of nuclear, radiological, chemical, and biological weapons. The Review features theoretical analyses, historical studies, viewpoints, and book reviews on such issues as state-run weapons programs, treaties and export controls, safeguards, verification and compliance, disarmament, terrorism, and the economic and environmental effects of weapons proliferation.
The Nonproliferation Review is produced at the Washington, DC offices of the James Martin Center for Nonproliferation Studies, Middlebury Institute of International Studies at Monterey. The journal is published by Taylor & Francis.