Tamara Patton
Melissa Hanham
Jessica Varnum
CNS is on the forefront of using open source information and new technical tools to identify and determine the capabilities of proliferation-related activities.  Many of our products are prepared for the NTI website, but many other applications for this work are used to support CNS original research.
The Global Video Library
CNS and NTI are creating a video library of strategic nuclear, chemical, biological, and missile-related facilities around the globe. The videos feature original, professionally produced and meticulously researched 3D models of selected facilities profiled on the NTI website.
CNS regional and technical experts produce these videos by conducting open-source analysis of current and historical satellite imagery, ground imagery, videos, and first-hand accounts of the sites. The models are created using Trimble SketchUp and geo-located using Google Earth.
3D Modeling Research Videos
Experimental 25-30 MWe Light Water Reactor
Sohae Satellite Launching Station
Tonghae Satellite Launching Ground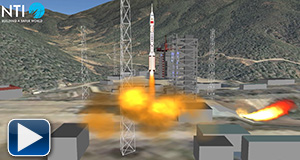 Xichang Space Launch Center
Yongbyon 5MWe Reactor
Video credits: Melissa Hanham, Matthew Johnston, Eduardo Fujii and Jessica Varnum.