Internships
Fellowships
---
CNS Undergraduate Nonproliferation Fellowships (formerly Internships)
…to read alumni publications, see participant alumni and some of their activities, watch last summer's digest video, and to apply to the program.
SUMMER 2023 APPLICATION IS NOW OPEN!
APPLICATION DEADLINE – FEBRUARY 28, 2023!
Eligibility
Be enrolled full-time at an undergraduate institution
Is eligible to work in the United States*
Has a strong interest in nonproliferation issues**
*For more details, please contact the fellowship coordinator.
**Students majoring in any of the natural, physical, or computer sciences, or geology are also encouraged to apply!
NOTE: Given the uncertain situation due to the global pandemic COVID-19, there is a possibility that the program may be conducted remotely. We will make our decision in alignment with MIIS policy which continues to follow the guidance of state and country health authorities.
Preferred Qualifications
Sophomore standing at an undergraduate institution before starting the program
Knowledgeable of international security topics
Has command of a foreign language
Paid, Summer-only
Undergraduate Fellows (formerly called Interns) are paid at approximately the same rate as graduate research assistants. Fellowships last between 2-3 months, from early June to late August. Fellows are responsible for finding housing, with the assistance of the Fellowship Coordinator.
Fellows will work with CNS experts on substantive issues in areas such as:
CNS is a pioneer in developing and applying "New Tools" in nonproliferation research and education. Our key techniques include open source information and computer modeling, namely the creative use of satellite imagery, geospatial data, 3-dimensional (3D) modeling, virtual reality environments, and social media platforms. Over the summer, fellows may have the opportunities to contribute to innovative nonproliferation projects for the Nuclear Threat Initiative website alongside a team of CNS experts.
Duties
In addition to assisting CNS experts with ongoing projects, our fellows get to develop their own research projects under the guidance of their respective supervisors and mentors. Because this is an educational program, fellows are also expected to attend seminars and lectures held at CNS throughout the summer and present results of their independent research at the end of the program.
To Apply
To complete the application, you must upload the following to the online form:

A cover letter with a statement of purpose
Specify which projects interests you most from the ones listed above
State availability: starting and ending dates of fellowship
Curriculum vitae or resume
Official or unofficial transcript
Short writing sample (2-3 pages)
At least two references. (At least one reference must be from your college professor)
Recommendation letter requirement: References will automatically be contacted via email when an application is changed to a "further consideration" status by the hiring manager.
You will not be able to submit your application for review until all required documents are attached to your online application.
Contact Information / Fellowship Coordinator
Masako Toki
Undergraduate Fellowship Coordinator
[email protected]
This year's Summer Internship Program is funded by the Tom and Sarah Pattison Fund, Carnegie Corporation, CV Starr Foundation, and the Earle Family Fund for International Education.

Back to Top
---
CNS Washington DC Internships
Internships are periodically available to current undergraduate and graduate students in CNS's Washington, DC office. Please bookmark this page for periodic updates and application guidelines.
---
CNS Internships at International Organizations
(MIIS Students only)
The CNS internship program supports its mission by offering on-the-job training for the next generation of policy experts in the field of nonproliferation while contributing to the capacity of international nonproliferation organizations in the field.
Internship opportunities are offered to dedicated and experienced nonproliferation students who are interested in gaining practical experience in the field of nonproliferation policy, enhancing their practical experience on current nonproliferation and disarmament issues, applying professional skills and academic knowledge they have gained during their degree program at the Middlebury Institute, and making a substantive contribution to the work of these organizations.
Given extensive staff connections at all international nonproliferation organizations and other relevant intuitions, CNS is able to offer internship opportunities at all these organizations twice a year, thereby making a sustained contribution to the objectives of the relevant units where the interns are placed. Given the reputation of CNS and the quality of MIIS students, interns work alongside experience international nonproliferation experts at these organizations.
PARTICIPATING ORGANIZATIONS
Depending on the availability of opportunities at participating organizations, the following internships are typically available during the Spring and Fall semesters. Interested students are advised to attend the CNS internship briefing sessions held at the start of each semester:
Vienna
Preparatory Commission for the Comprehensive Nuclear Test Ban Treaty Organization (CTBTO)
International Atomic Energy Agency (IAEA)
Mexico City
Agency for the Prohibition of Nuclear Weapons in Latin America and the Caribbean (OPANAL)
The Hague
Organization for the Prohibition of Chemical Weapons (OPCW)
Geneva
United Nations Institute for Disarmament Research (UNIDIR)
United Nations Office at Geneva (UNOG)
Implementation Support Unit (ISU) of the Convention on the Prohibition of the Development, Production and Stockpiling of Bacteriological and Toxin Weapons and on Their Destruction (BWC)
Conference on Disarmament (spring semester only)
New York
United Nations Office of Disarmament Affairs (UNODA)
Activities
CNS Internship opportunities offer the opportunity for MIIS nonproliferation students to:
Gain practical experience in the field of nonproliferation policy
Enhance their practical experience on current issues
Apply professional skills and academic knowledge
Gain practical experience in observing and evaluating organizations and programs
Make a substantive contribution to the work of these organizations
Contribute toward the mission of international organization
Conduct field research
Work & live in a multilateral, multicultural environment
Build professional network
Conditions
Preference will be given to MIIS students who:
Completed the Intro to WMD Nonproliferation course and are familiar with nonproliferation regimes and concepts
Excel academically, with high levels of writing and communications skills
Are willing to complete writing assignments and interviews
Are available for the entirety of the 4-6 month internship in either Fall or Spring semesters. (NOTE: Summer internships are not supported)
Enrolled students interning in the spring can apply for the IPSS program to earn academic credit. Students participating through IPSS are not eligible for the monthly stipend or airfare reimbursement. They can continue to receive their usual financial aid.
Are available for the entirety of the 4-6 month internship
Interview with the program director
Financial Support
Financial support may be provided on merit. Qualified applicants may apply for monthly stipend of $1000 (for a maximum of 6 months) and reimbursement for airfare of up to $1500 to and from the internship. Financial support for students who enroll in IPSS or the dual-degree program may be considered on a case-by-case basis.
To Apply
Deadline for internships: Open ended depending on the opportunities available at participating organizations. It is the responsibility of students to regularly check the websites of relevant international and regional organizations:
IAEA: https://www.iaea.org/about/employment/internships
CTBTO: https://www.ctbto.org/work-with-us/employment/internships
OPCW: https://www.opcw.org/work-us/internships
UN ODA (New York, Vienna and Geneva): https://careers.un.org/lbw/home.aspx?viewtype=IP&lang=en-US
UNIDIR (see "Graduate Professional Program"): https://unidir.org/work-with-us
OPANAL: https://www.opanal.org/en/internship-programme/
VCDNP:  https://vcdnp.org/wp-content/uploads/2017/08/VCDNP-Internship-Announcement.pdf and https://vcdnp.org/vcdnp-fall-2023-internship-2/
Submissions
Submit a Middlebury Institute transcript
Provide a study plan with completed and future courses
Send a current résumé or CV
Write a 500-word statement detailing career goals (short and long term), how the chosen organization can help achieve those goals, and what the intern can contribute to the organization
Give 2 references (one of which need to be a MIIS faulty or staff person) who will submit letters of recommendation on your behalf
Send all to the Contact
NOTE: CNS letter of endorsement for selected eligible students will be sent to the line function departments at relevant organizations.
Contact Information
Jean du Preez
Senior Program Manager for Education and Training
James Martin Center for Nonproliferation Studies
Middlebury Institute of International Studies
460 Pierce Street
Monterey, CA 93940
Telephone: 831.647.6575
Email: [email protected]
---
Summer Internships in International Nuclear Safeguards Policy
Held in the summer at the Lawrence Livermore National Laboratory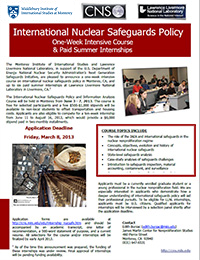 The Middlebury Institute of International Studies at Monterey (MIIS) and Lawrence Livermore National Laboratory, in support of the US Department of Energy National Nuclear Security Administration's Next Generation Safeguards Initiative, are pleased to announce the availability of up to six paid summer internships at Lawrence Livermore National Laboratory in Livermore, California.
→ Learn More
To learn more, visit Tuition-Free Nuclear Safeguards Course and Paid Summer Internships in International Nuclear Safeguards Policy
---
Davis United World College Scholars Program
Applications are currently closed
Eligibility
Davis UWC Scholars
Completed at least their sophomore year of study
Knowledge of international security topics (desirable)
(Students majoring in the physical or biological sciences are also encouraged to apply)
Command of a foreign language (desirable)
Read the full program description
Continuing International Students
Continuing international students in the United States in valid F-1 or J-1 student visa status may participate without taking additional action related to their student visa status, in most cases. International students in valid F-1 or J-1 student visa status who will have graduated from their current institution by the start date of the fellowship program will need to have approved F-1 Optional Practical Training (OPT) or authorized Academic Training (for J-1 students) by the start date of the fellowship program in order to participate.
Questions?
Immigration-related issues: Contact our International Student and Scholar Services office: [email protected]
General questions: Consult with the international student adviser at your current university to confirm that you can participate.
Research
Topics include:
The spread and control of weapons of mass destruction (nuclear, chemical, and biological)
Regional security issues involving the former Soviet Union, East Asia, South Asia, and the Middle East
Issues related to the Nuclear Non-Proliferation Treaty (NPT) and other arms control and disarmament agreements
Terrorism involving weapons of mass destruction
UWC fellows may develop their own independent research projects under the guidance of CNS faculty. Fellows are invited to attend CNS lectures, training seminars and nonproliferation discussion meetings throughout the summer. Davis UWC fellows may also have an opportunity to present results of their independent research as appropriate at the end of the program.
Stipend and Paid Costs
Provided only by The Fellowship in Nonproliferation Studies component of the Davis United World College Scholars Fellowships at MIIS.
Daily stipend ($45/day)
Paid Lodging
Paid Transportation
Important Tax Note: The total support received through the fellowship program is considered by the IRS as a non-qualified scholarship. As such we are required to withhold taxes unless treaty benefits apply.
To Apply
Send a cover letter with:

The following statement, clearly visible:
Application for the Davis UWC Fellowship in Nonproliferation Studies
Statement of purpose
Your preferred research topic

Submit an official or unofficial transcript
Provide a current resume or Curriculum vitae (CV)
Give one or more letters of recommendation – One letter must be from your college professor, who can send the letter directly to the CONTACT ADDRESS…..
Send all to the Contact (sending via email is also acceptable)
Contact Information
Masako Toki
Coordinator, Davis UWC Fellowship Program
James Martin Center for Nonproliferation Studies
Monterey Institute of International Studies
460 Pierce Street
Monterey, CA 93940
831.647.3580
[email protected]